Baan Tawai
Baan Tawai  is the village of wood-carving handicrafts. It has been known as the major cultural attraction of Chiangmai for Thai and foreign   tourists.  The best quality and bargains of wood carving items can be found in Baan Tawai.

At present, a wide variety of wood carvings and other decorative items e.g.  wood carving, wood-strips, gold leaf wood,  antique wood, silverware, lacquer ware, hand-woven textile, basketry and earthenware, can be found in Baan Tawai at Baan Tawai handicraft  Center and Baan Tawai Song Fang Klong Center.
---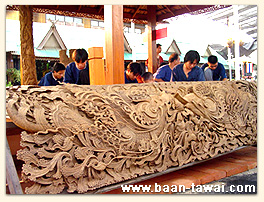 How we became the village of wood-carving
For forty years, the art of wood carving has been passed down from generation to generation. During BE 2500-2505, the first three villagers, Pho Naan Daeng Puntusa, Pho Jaima Inkaew and Pho Huen Puntusart had left Baan Tawai to learn how to carve at Nomsilp, a manufacture shop on Wua Lai Street, Chiangmai Gate. They brought their new found skill back to Baan Tawai. The village gradually became renowned for its woodcarving expertise.
---
The art of wooden handicrafts at Baan Tawai
| | |
| --- | --- |
| • | Wood-carving : typical woodwork at Baan Tawai, Chiangmai |
| • | Wood texture- polishing : polished in order to bring out  the beauty of  wood texture  |
| • | Crackle Paint Wood : a paint that produce a crackled effect on the wood  |
| • | Wood antiqueing : new wood made to look like antiques |
---